Who are we?
Saola organises inclusive events, extracurricular activities and sports competitions mainly for children with Neurodiverse needs, Special Educational Needs and Physical Difficulties. We also encourage and promote inclusion, so children of all abilities can take part.
Saola offers communications in English, French, Dutch & Spanish
Saola was created in 2021.
FR:
Saola organise des événements inclusifs. Il peut s'agir d'activités extrascolaires et de compétitions sportives. Celles-ci sont organisées pour les enfants présentants des difficultés d'apprentissages qu'elles soient d'ordre mentales ou physiques. Mais pas seulement. Nous faisons la promotion de l'inclusion ainsi les enfants sans difficultés particulières sont aussi les bienvenus.
Saola offre de la communication en anglais, francais, flamand et espagnol.
L'ASBL Saola a été créée en 2021.
Inclusive
Saola promotes inclusion and welcomes children of all abilities to take part in our adaptive activities.
Experienced
The members of the SAOLA ASBL are highly experienced and qualified professionals who work with children with special needs on a daily basis.
Flexible
Join any of our camps, activities or events as you wish. If you want to join for one day, one week, one month, one term, or one year. The choice is yours.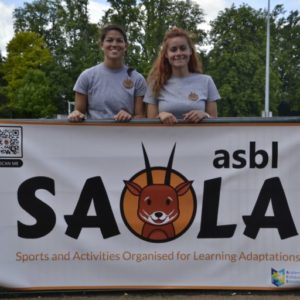 Ashley & Camille
Co-Founders of Saola
Who We Are
Ashley Hall and Camille Bernier are the co-founders of Saola. They both work in an inclusion program at ACE of Brussels in Auderghem Belgium.
They created SAOLA after realizing that there were so many sports opportunities for typical children. Where were all of the events for children with needs? Why couldn't they be included? Why can we not promote inclusion?
FR:
Ashley Hall et Camille Bernier sont les co-fondatrices de Saola. Elles travaillent toutes deux dans un programme d'inclusion au sein de l'école ACE of Brussels à Auderghem en Belgique.
Elles ont créé SAOLA après avoir realiser qu'il y a tant d'opportunités pour les enfants sans difficultés particulières de pratiquer des activités extra-scolaires mais où sont les propositions pour les enfants présentant certaines difficultés ? Pourquoi ne peuvent-ils pas être inclus dans ces programmes ? Pourquoi est-ce si difficile de promouvoir l'inclusion ?