Camille Bernier
Co-Founder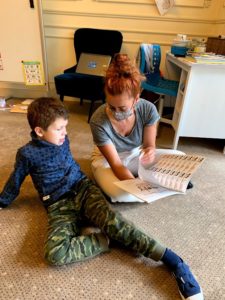 Camille is originally from France. She is a qualified Occupational Therapist. She works at ACE of Brussels in the Inclusion program.
Camille is also a qualified Football coach for kids and has her First aid swimming degree. She currently plays football as well as coaches a U-16 girls team at FC Femina Whitestar.
FR:
Camille est originaire de France. Elle a effectué ses études en ergothérapie à Bruxelles et travaille comme ergothérapeute au sein du programme d'inclusion de l'école ACE of Brussel.
Camille est aussi une coach de football qualifiée (brevet B) et a son diplome de premiers secours. Elle est joueuse mais aussi coach de l'équipe U15 au sein du club FC Femina Whitestar.
Ashley is originally from the United States. She studied Special education as her Bachelor's Degree and obtained a masters in Educational Leadership. She is currently working towards her Doctorates in Curriculum and Education with a focus in Special Education.
Ashley is currently working at ACE of Brussels school in Auderghem where she created and directs an inclusion program for students with special needs.
Ashley has been playing football (soccer) for more than 20 years. She has a UEFA C coaching qualification and also currently playing football for FC Femina Whitestar in Brussels, Belgium.
FR:
Ashley vient des Etats-Unis. Elle a effectué un bachelier en éducation spécialisée ainsi qu'un master de direction en établissement scolaire. Elle est pour le moment, en cours de passation de son doctorat en éducation spécialisée.
Ashley travaille à l'école ACE of Brussels school à Auderghem où elle a créé et dirige maintenant un programme d'inclusion pour les enfants à besoins spécifiques.
Ashley joue au football depuis plus de 20 ans. Elle est titulaire du diplôme de coaching UEFA C et joue pour le club de football bruxellois FC Femina Whitestar en Belgique.
Leandra Guiteras-osma
Team Member
Leandra is of a Belgian and Spanish origin. She has completed her Bachelor's Degree in Psychopedagogy. Leandra is currently working towards her Master's degree in clinical psychology and psychopathology. She is currently training in the field of psychoeducation.
Leandra works in the inclusion program at the ACE of Brussels School.
Since Leandra was a child, she has been interested in the well being of children and wanted to work with kids. During her studies, she took special interest in behavioural and learning disabilities, which she pursued.
FR:
Léandra est belge et d'origine espagnole. Elle a effectué un bachelier en psycho- pédagogie à la haute école de Marie haps et est en fin de master en psychologie clinique et psychopathologie. Actuellement elle est en formation dans le domaine de la psychoéducation.be
Léandra travaille au sein du programme d'inclusion de l'école ACE of Brussels.
Depuis toute petite, Léandra est intéressée par le bien-être des enfants et souhaitait travailler dans ce domaine. Au cours de ses études, elle s'est découvert un intérêt particulier pour les troubles du comportement et d'apprentissage, elle en a donc fait sa vocation